The first time I flew on an airplane, I was two weeks old. It's not a trip I remember, of course, but it was the first journey in a long season of childhood travel that would shape my life.
In 1976, my parents took my two older brothers and me on a "Bicentennial" trip. We toured Boston, Philadelphia, New York City, Williamsburg, and of course, Washington D.C., soaking in history and seeing everything we could. I remember a shocking number of details and events, particularly given the fact that I had just turned 6 that summer.
That's the thing about travel and kids. I hear parents hem and haw about whether to spend the money on a big trip for a little kid, thinking that they won't get much out of it, but my experience has been exactly the opposite.
I remember the Boston city tour with "Ben Franklin", a docent who dressed the part and led us through Mr. Franklin's life. This is where I heard about Ben's famous kite for the first time, and every time thereafter, I would picture walking those cobbled streets with that tour guide whenever the story was mentioned.
I remember being fascinated by Betsy Ross's home, my brother running right into the door at Independence Hall and emerging with a bloody lip, the crack in the liberty bell, riding the elevator to the top of the World Trade Center and feeling the floor shift, climbing the stairs up the Statue of Liberty, and finishing my bowl of peanut soup at the King's Arms Tavern.
In the years that followed, my parents took us to places close to home — growing up in California offers an entire state of travel destinations — and places faraway. I saw Hawaii, Florida, Texas, and a slew of states in between. I spent my 12th birthday in the heather on the hills of Scotland and my 16th watching Rudolph Nureyev dance Swan Lake in London. I saw Les Miserables on Broadway, gazed in wonder at the stalactites and stalagmites inside Carlsbad Caverns, and spent nights in a sleeping bag in Yosemite Valley.
It would be faulty to underplay the importance of all I saw and experienced as we traveled throughout my youth, and in fact, I used to tell people that I was getting a better education from my parents than I ever got in a classroom. Entirely true.
Now, a parent myself with a far more limited travel budget than my parents had, I look for opportunities to expose my kids to the greater world around them. I want them to view life and society with an eye that isn't America-centric. We save our money, we plan carefully, and then we go. My big dream? Spend at least a month somewhere other than here and immerse ourselves in that culture. My kids are dreaming about Switzerland, Italy, New Zealand, and South Africa.
As far as I'm able, I'll make this world traveling thing a reality, and if the money isn't there, I'll keep the dream alive by watching the Travel Channel, hopping in the car to explore our state, and reading about far away lands and cultures. Is it worth the time and money invested to take young kids around the world, or even around the corner? You bet!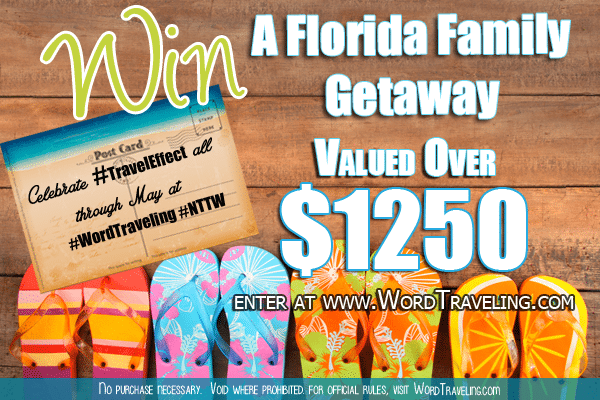 Ready to hear about the big Travel Effect Giveaway????
One winner will be blessed to receive: 3 nights stay at
Casa del Rey
in Hobe Sound Beach, and a chance to meet
Jen
-value -$450 2 nights stay for a family of 4 plus Breakfast at
Sun Tower Hotel Suites
in Fort Lauterdale - value $500.
Geo Matters
Maps & Geography Bundle TBA ~$150. Wonder Maps from
Bright Ideas Press
- value $49.95.
Apple Core
one year subscription- value $55.
Words With Wings One Year Subscription
from Word Traveling - value $59.
Car Cache
-value $20.
Click the image above to enter!